Dometic Fridge Accessories - Dometic Fridge Spares, Dometic Fridge Parts

0
How to find spare parts in our online shop
Identify product via Reimo item number
In case you bought yoour accessory or other part in our online shop, at our camping megastore or at one of our retailers, it is pretty easy: By using the Reimo item number (in the invoice or on the packaging) you can find the product by searching our online shop.
Identify product by manufacturer item number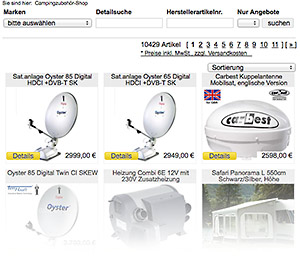 In case you bought the product elsewhere, you need to try to find out the manufactuerer number.
This should not be a problem for the big brand manufacturers. Their websites are generally good for products searching
Otherwise, please try online or by phone at your sales outlet.
Look in the Reimo shop with manufacturer number
Our online shop offers the opportunity to search for the manufacturer item number on various points. Within the shop categories there is a input field "Manufacturer Item Number".
This can be used e.g. for these categories:
Thetford Spare Parts
,
Truma Spare Parts
orr
Alde Spare Parts
Cross-shop search for parts from other manufacturers:

Spare parts display in item details in the Reimo shop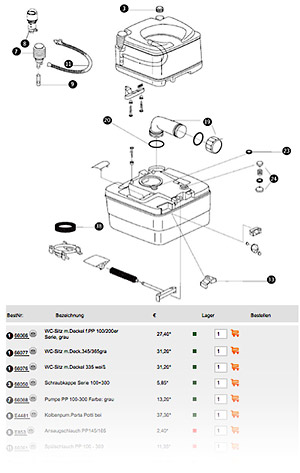 For many motorhome and caravan products, we have the spare parts in the form of a list. This list is displayed in the item details view below the description.
If available, a schematic or exploded view is shown, in which the individual parts are numbered and assigned to the spare parts in the list.
You can order directly in the list via the shopping cart symbol.
We do not always have all motorhome and caravan spare parts in stock! Some spare parts are also ordered only when there is an order. So we only order from the manufacturer if you order these parts in the shop.
We ask for your understanding that we can not keep everything in stock because of the abundance of possible spare parts for different types of camper or caravan.
If the item number is already known
Perhaps you already know the manufacturer number of the required motorhome or caravan spare part. The number could be listed in the manual or you may have found it on the company's homepage.

You can determine the corresponding Reimo number via the button below. Please use the input field "manufacturer item number" on the search page.
Cross-shop search for spare part number:

Request for spare parts
If nothing is found by using the search option, we may not have included the part in our inventory.
In this case, please send a request by e-mail to a
Reimo Specialist Retailer in your area
, who can order it for you.
Specify as exact as possible what you need: manufacturer, item number and name of the product for which a replacement part is needed, date of purchase (possibly) or the date of manufacture (if possible).