Camping Storage, Camping Cupboards, Camping Wardrobe, Camping Cabinet, Camping Storage Unit, Camping Clothes Storage

Camping storage unit, camping wardrobe, camping cabinet, camping clothes storage or camping cupboards
- Clothes or supplies, everything tidied up!
We offer camping cupboards, camping wardrobes, camping cabinets and other camping storage units.

Scroll down for more details about or range around camping storage!
Camping cupboards, camping wardrobe, camping cabinet - shown and presented in this Youtube-Video
Camping cabinet - stow things almost like at home
The camping cabinet is one of the most practical equipment for a successful camping holiday. Because with this camping cabinet, everything has its place, just like at home. No more searching for things, no more mess.
Camping wardrobe, camping clothes storage
Moisturing, dust and dirt likes to spread in the awning. Closed with the zipper, everything stays nice until it is needed. The camping wardrobe is available with drawers, with various shelves to store T-shirts, shorts or even food. A camping wardrobe with hanging space can also store your evening wear and / or jackets! Either way, the camping wardrobe is a great way to save space and store useful items close at hand.
Camping storage unit like camping cupboards for tent and awning by Camp4, Westfield, Crespo
We offer camping cupboards by the brands Camp4, Westfield und Crespo an. There is the camping storage unit with quick-set up system, or the normal camping cupboards to simply stick together. A camping storage unit with quick-set up system do not need to be sticked together. The camping cupboards can be unfolded or folded in one go. As you can see on the picture to the right, camping cupboards can be transported well folded as a suitcase or packed in a carrying case.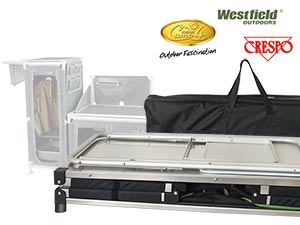 Do you have any further requests, questions or suggestions about our range?
Please send us your proposals via direct message to our
Facebook-Account
! Thank you very much!

Visit our Reimo Youtube Channel!
Watch
Videos about our camping products, camper, motorhomes and caravans!