Camping Storage: Camping Cupboard, Camping Wardrobe, Camping Storage Unit and more!

Look for your practical camping storage unit, camping clothes storage and camping storage box
- Clothes or supplies, everything tidied up!
We offer camping cupboards, camping clothes storage like camping wardrobes, camping storage boxes and other camping storage units.

Scroll down for more details about or range around camping storage!
0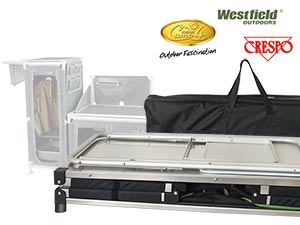 Folding camping cupboards by Camp4, Westfield, Crespo
We offer camping cabinets, tent cabinets and folding cabinets of the brands Camp4, Westfield and Crespo.
Pay attention to our tent cabinets with quick-assembly system: no more plugging together necessary, the cabinet can be folded in one go and can be easily transported as a case or in the carrying bag.
Our quick setup camping cabinets:
Diana, Fred, Katy, Frida, Mary & Betty, as well as the Crespo folding camping cupboard.
Camping cupboards presented in Youtube video
Watch a selection of our various models of camping cupboards in action: The set up is shown and its fast and practical use. Camping cupboards with quick set up system are taken by pulling apart the carrying case and locking the struts juck-twitch.
Do you have any further requests, questions or suggestions about our range?
Please send us your proposals via direct message to our
Facebook-Account
! Thank you very much!

Visit our Reimo Youtube Channel!
Watch
Videos about our camping products, camper, motorhomes and caravans!