Air bed, inflatable mattress, inflatable bed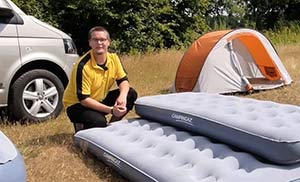 An air bed is the better alternative to air mattress and inflatable mats
If you want not sleep without comfort during camping, select an air bed: available in many sizes and thicknesses, for one person or as double bed. The inflatable mattress is inflated quickly with the optional battery-air pump.
During camping the air bed has a good isolation due to the distance to the ground. A soft veloursurface provides comfortable lying.
And even at home an air bed will serve you well. The inflatable guest bed is set up quickly and provides a good sleep.
0