Camping Gas Stoves - Camping Cooker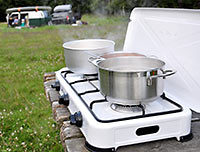 Outdoor cooking with out camping gas stoves and camping cookers!
The compact camping gas stove is the classical and space-saving way to prepare a quick meal while camping. The simplest version of the camping gas stove consists of a gas cartridge with a pot holder and igniter.
However, there are now a variety of camping gas stove in many sizes, expandable with matching accessories such as non-stick griddle or toaster attachment. You can also find 2- or 3-burner propane stoves here, which are suited for awnings and motorhome.
With an additional heating element you can even use the camping gas stove as a small gas heater. Camping gas stoves and
camping gas lamps
often use the same system.
Please make sure that you are using the right type of gas cartridge. With Campingaz products - one of the best-known manufacturers of gas stoves - you can safely assume that replacement cartridges are easily obtainable abroad. For an overview of cartridges available from us please go to shop section
gas cartridges
.
0
Our Youtube Video about camping gas stoves and camping cookers