Camping Stove: Camping Gas Stoves, Gas Camping Stove, Camping Gas Stove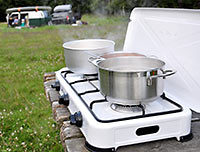 Outdoor cooking with our camping gas stoves!
The compact camping gas stove is the classical and space-saving way to prepare a quick meal while camping. The simplest version of the camping stove consists of a gas cartridge with a pot holder and igniter. Because with the small and compact gas camping stove you choose a space-saving method to get your food hot. With a camping stove you can bring water for your coffee to boil in a short time. Of course you can also prepare a decent meal with your camping stove.
These small camping gas stoves are traditionally used to heat stews as well as water for the camping coffee maker.
This is a little too much "Back to the Roots" for you? Of course, there are different versions of the camping stove in many sizes. Many camping gas stoves are expandable with matching accessories such as a non-stick grill plate or toaster attachment. Whether you are looking for a multi-burner gas cooker or a small camping stove, here you should find the right gas camping stove for you!
Scroll down for further information about a camping stove and camping gas stove!
Watch our Youtube-Video about camping gas stoves!
Camping gas stoves by Camp4, CAN and Thetford
You can buy low-priced camping gas stoves by Camp4 at Reimo. This is because the camping gas stoves are developed by us, but produced in "far-far-away". The quality inspection of the camping gas stoves takes place here at Reimo again. The Camp4 camping gas stove Burny can be equipped with an optional grill plate and/or the optional heating top. Then you have your camping gas stove turned into a camping BBQ or a small heater for little money. In many gas grills you can use the gas cartridges for the camping gas stoves also in the camping gas lamp. That's great, because then you only have to take one type of cartridges on your vacation!
Make sure you use the right gas cartridge for your camping gas stove. If you use Campingaz cartridges, you can easily buy them in almost all European holiday destinations. Here we have an overview of the cartridges for camping gas stoves for you, have a look in the shop section camping gas cartridges.
Camping stove for garden, camping and partys
You can use a camping stove very versatile. Of course, the main focus is on the function as a camping stove. But you can also use the camping stoves at home, in the garden or at a picnic. For example, a camping stove is perfect for your New Year's Eve fondue (in well ventilated areas) or you can use it for a quick street food. Camping stoves get hot quickly. Gas cartridges or gas bottles for the gas camping stove does not cost very much. With a camping stove you can prepare relatively inexpensive many hot meals. In addition, your camping stove is little susceptible to interference. Recognized? All in all, your camping stove is the perfect holiday companion.
Camping baking oven for use outdoors or with good ventilation
The camping baking oven by Camp4 leaves almost nothing to be desired. Because this camping baking oven is an enrichment for you as an enthusiastic outdoor chef. With good ventilation in the awning or under the camping tarp, you can sizzle with the small camping baking oven with gas stove. You are looking for a built-in device for your camper? Then have a llok at gas oven for motorhomes and caravans.
Campingaz stove Ycelerate, Bleuet or Camp Bistro
The Campingaz stoves Ycelerate, Bleuet or Camp Bistro are just a selection of the small powerful Campingaz gas stoves. The well-known camping stoves such as the Campingaz Bleuet have been on the market for many years. The only difference to the camping stove of the earlier years are small but fine improvements. These are handled by Ycelerate , Bleuet or Camp Bistro . One the gas stoves were fired with a lighter in the wind. Now, most camping stoves provide a well-maintained piezo ignition for a successful gas flame start.
Safety while cooking
The small gas camping stove with cartridge used to need a straight surface. There, the cooking pot was balanced on thin wires. These gas camping stoves were and still are a very shaky affair. But the time has not stopped. Nowadays, you can buy gas camping stoves with a stable foot or wide footprint. So your gas camping stove gets a secure hold. The wires of the cartridge gas cooker became thicker over time and now also act as a windbreak for good heat development. The situation is similar for all Campingaz, Camp4 or the other gas camping stoves in the range. Constant improvements make cooking on the gas camping stove a safe matter for you!
Of course you have to be careful because you are cooking on an open flame, but the dangers have been minimized as far as possible.