Pop top roof VW T6, VW T5

0
VW T6, VW T5 pop top roof, elevating roof superflat classic
This pop up roof is available as front pop up and rear pop up. The integrated heavy duty hinges lift up the campervan roof by approx.. 35 cm, creating increased leg space. The canvas of the elevating roof is made of breathable, water-repellant cotton mesh and has three windows, 2 on either side and 1 in the front. All can be fully closed from the inside. The two side windows are equipped with mosquito nets to ensure good ventilation. These can also be zipped open completely. The matching
strengthening frame
is needed to reinforce your camper roof conversion. The frame needs to be mounted on your VW T6, VW T5 before the roof can be installed. Hinges, dampers and canvas are attached to the frame. With the offered
pop top bed standard
extra sleeping space can be created within the elevating roof superflat classic. The bed is made of laminated poplar plywood. The 3 cm to 5 cm foam mattress is equipped with a removable, grey cover made of 100% polyester. The gas strut assisted bed can easily be opened
VW T6, VW T5 pop top roof, elevating roof Easy-Fit
With the VW T6, VW T5 pop up roof Easy-Fit the vehicle height is only increased by approx. 7 cm. It is extremely flat and very aerodynamic. The separate front spoiler additionally ensures a reduction of wind resistance and the relating noise to create an even more pleasant driving experience when going fast. The roof shell has a sandwich structure and is being insulated by an integrated textile interior lining with foam lamination. This inner lining also provides noise-dampening and moisture-balancing features. No additional reinforcement frame is required, when installing the Easy-Fit pop top roof to your VW T6, VW T5 short or long wheelbase.
The canvas and hinges are already mounted onto the reinforcement frame. The canvas is made of breathable, water-repellent fabric and has three windows. The front window mainly consists of foil, with only a small part being made of mosquito net to create forced ventilation. The two side windows are equipped with mosquito nets and can be opened completely with a zipper. When open the campervan roof is raised by about 35 cm, creating a spacious and comfortable bedroom with plenty of leg space.
How can you securely look the pop top roof while driving? The
VW T6, VW T5 elevating roof Easy-Fit
is being offered with two different roof lock systems. You have the choice between the conventional roof fastener consisting of two straps, or a more modern version with a Quick Lock locking system.
VW T6, VW T5 pop top roof, elevating roof Easy Fit V-Tec
The new pop up roof Easy Fit V-Tec has an innovative sandwich structure consisting of reinforced inner and outer shell. It is light, flexible but also very stable and comes with integrated reinforcement frame. It has a sleek and elegant inner and outer surface. The V-Tec shell is easily cleaned and maintained thanks to the lotus-like effect. The campervan roof Easy-Fit V-Tec further offers all the attributes and benefits as described for the elevating roof Easy-Fit.
Are you looking for the ultimate convertible feeling? Check out the
Open-Sky
pop top roof option for all VW T6 and VW T5 pop up roofs Easy-Fit (short wheelbase). Zip open your pop top roof to enjoy a 360° view of the scenery. The front area can almost be fully zipped open and the opened canvas can easily be fastened to the roof by the provided loops. Please order in conjunction with your VW T6, VW T5 Easy-Fit elevating roof.
Pop top bed Standard and Luxus
Looking for restful sleep while on the road? We are offering two different pop top beds for your VW T6, VW T5 elevating roof Easy-Fit.
The budget option
Standard
is made of laminated poplar plywood (light-grey). The gas strut assisted bed can easily be opened by using the provided handles. An aluminum end profile ensures high stability. The 3 cm to 5 cm foam mattress is equipped with a removable, grey cover made of 100% polyester.
The pop top bed
Luxus
offers a spring system for the upmost sleeping comfort. The spring plate elements can be adjusted to your personal need, from soft to hard. The 5 cm thick foam mattress provides a comfortable sleeping surface and adapts to the body shape. The hatch to the pop top bed is equipped with a shutter for more privacy or to prevent things from falling while driving. Of course, the bed is also gas strut assisted to ease its raising and lowering.
Hatch can be closed for more privacy or while driving (optional, pop top bed Luxus)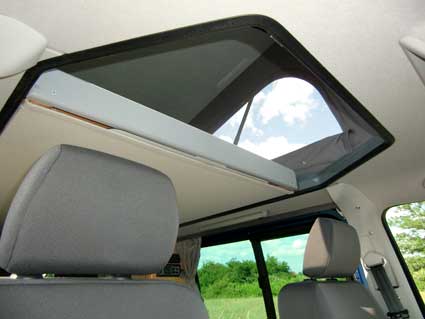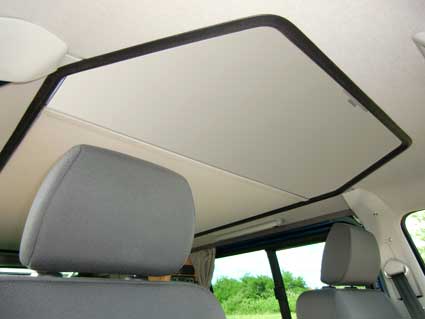 VW T6, VW T5 pop top roof, mushroom roof
Just need a bit of extra height while cooking? Our mushroom roof is available for VW T6, VW T5 short and long wheelbase. Parallel pop up and gas strut assisted, offering extra headroom in the entrance area (roof cutout approx. 106 x 101 cm). The canvas of the pop top roof is made of breathable cotton mesh and has three windows. All can be fully closed from the inside. The two side windows are additionally equipped with mosquito nets to ensure good ventilation.
Preview 2018

VW T6 pop top roof Comfort – the pop up roof with electrical opening mechanism
The new VW T6 pop top roof Comfort for VW T6 short wheelbase creates a new elevating roof era with increased user friendliness and even more sleeping comfort. Offering all the advantages of the elevating roof Easy-Fit V-Tec the campervan roof Comfort is equipped with a hinge providing an extra of 10 cm in height for even more legroom and comfort in your pop top bed. The electrical opening mechanism can be used to fully open and close the roof within one minute. The mechanism is easily accessible but also protected against the weather.