Download REIMO catalogues: Zubehoer-Profi & Ausbau-Profi
These catalogues are available to browse and search online:

Our big accessories catalogue Der Zubehoerprofi offers more than 900 pages packed with everything you need to complete the technical equipment of you camper van, motor home or caravan. You will find additional accessories like awings, tents, tent carpets and others to make your holiday more convenient, but also many camping and leisure time products like camping chairs, tables, outdoor stuff, camping tents.

Our conversions catalogue Der Ausbau-Profi shows all current conversion models based on VW t6, T5 and T4, Mercedes Sprinter, Ford Transit and other brands. Conversions are available as full or part conversion, but also as single components you can fit yourself.
Of course our self-produced TUV-tested foldable bench seats are in there, and the different types of roofs we build ourselves like elevating or high-top roofs - plus any kind of material for the do-it-yourselfer from insulation down to drawer slides and screws...

Campervan brochures: In 2016 you find information on our complete conversions in separate brochures for each car model. You can download the brochures here.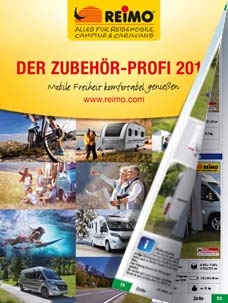 Even bigger now: More than 900 pages, packed with camper accessories, caravan technology, camping products, and lots of expert information and know-how...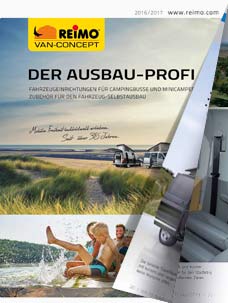 Reimo's famous van conversions, campervan furniture, minicampers, campervan kits, elevation roofs and hightops, bench seats, parts and materials …
Reimo campervan brochures 2016
Reimo campervans based on Volkswagen T5 and T6
Our top model TrioStyle is a fully equipped luxury van. This campervan conversion is now available for the new VW T6.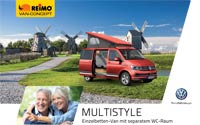 The Reimo camper van MultiStyle offers more travelling comfort with its single beds and the kitchen and sanitary compartment in the rear.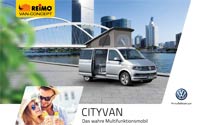 The Reimo CityVan based on VW T6 or T5 ist a multifunctional van with a spacious interior concept. Now available for Volkswagen T6!
Minicamper based on Volkswagen Caddy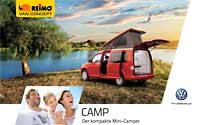 Our minicamper Camper based on VW Caddy Maxi with lang wheel base ist a fully equipped campervan with the versatility of a passenger car: It comes with a neatly designed furniture row, two beds on the bench seat, and even an elevating roof with two additional berths (optional).
Campervan based on Basis Mercedes Vito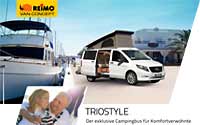 Our premium campervan TrioStyle is now available for the new Mercedes-Benz Vito long wheelbase (length 5,14 m).
Campingbus auf Basis Renault Trafic
Reimo TrioStyle is now also available for new vans Opel Vivaro and Renault Trafic, short wheel base.
Campingbus auf Basis Ford Transit Custom
One more Reimo TrioStyle: The new Ford Transit Custom offers more interior space than other vans. Our TrioStyle van conversion makes good use of this additional space.