Ford Transit Roof - Ford Transit High Roof, Ford Transit Camper Roof, Ford Transit High Top Roof, Ford Transit SWB High Roof

You would like to convert your Ford Transit into a campervan and need a Ford Transit roof?
Then you are absolutely right here!
We offer here Ford Transit high roofs for retrofitting, as well as various conversion materials to support your project!
The Ford Transit has been driving on the streets for a long time. The first models were built in 1961 under the name of Taunus Transit.
The change to the
Ford Camper
, or camping vehicle went around 1986 with the new model line. This model series was built until 2000 and these Ford Transit high roofs for retrofitting are still in demand today.
Even with the model years 2000-2013, there were no major changes in bodywork, so that we can still offer the right Ford Transit high roof for retrofitting e.g. Ford Transit swb high roof.
For the
series from 2013 onwards
we have a
pop top roof for swb 07/2013
in our range.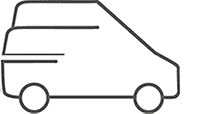 Ford Transit high roof
- A
Ford Transit high roof
offers plenty of space and is
easily insulated
by the smooth walls. Therefore, vehicles with high roofs are well suited for longer trips or colder regions. With the additional space in your Ford Transit high roof, you can create sleeping space. With storage cabinets you create more storage space for your trip. Ford Transit high roofs are glued to the vehicle. The appropriate installation frame must first be installed. This will give you the rigidity of your vehicle.
TÜV certificates are only valid in connection with the fitting frame suitable for the vehicle
0