VW T6, VW T5 campervan conversion CityVan (long wheelbase)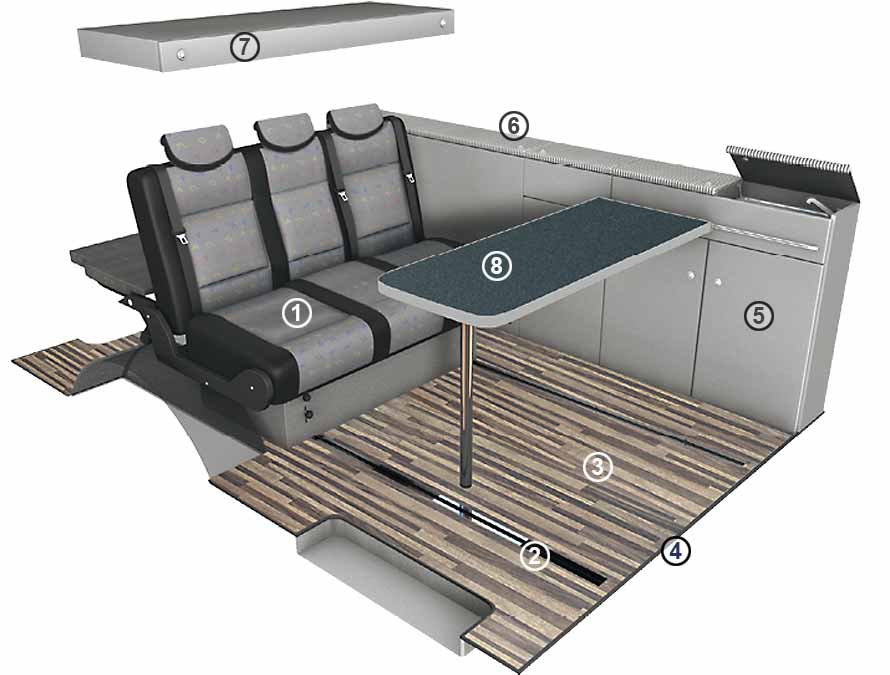 Rock and roll bed Variotech 3000®
Three seater (size 14), movable and removable
Total width: appr. 128 cm, sleeping space: appr. 205 x 136 cm
Integrated, retractable head rests, three-point seat belts, fold-up rear upholstery, side panel
Design: classic grey bi-colour
Itemo no. 5040100
Design: Austin T6
Item no. 5040122

Rail set "Grizzly" for Variotech 3000®
2 aluminium rails, silver anodised, length appr. 286 cm, one driving position
Rail set item no. 58201
Floor plate 3 pieces
Suitable for VW T6, VW T5 SWB, length appr. 246 cm
Decor ship´s deck - item no. 1053732
Decor Quad – item no. 1053731

X-Trem insulator 18 mm (no image)
Insulation underneath the floor plate.
X-Trem (one plate) – item no. 50009
Two plates will be needed for short wheelbase, three plates for long wheelbase!
Furniture module as finished part
Elegant furniture module with cover, ready to install a water system, compact sink and cooler.
Wooden decor anthracite
Item no. 10788
Wooden decor high-gloss white
Item no. 10788W

Water system

Installed in furniture module with sink, faucet, 13 l fresh and grey water tank, submerged pump

Item no. 60004E

Reimo compressor cooler 26 liter (no image)
Slim cooler, depth only 26 cm, temperature range +1°C to 10°C, W 570 x D 204 x H 360 mm, already integrated in furniture module
Item no. 71177E
Compressor cooler for self-installation
Item no. 71177
Roof cabinet
Prefabricated for extra storage space above rear seat bench
Wooden decor anthracite
Item no. 10800 for standard roof
Item no. 10797 for pop top roof
Item no. 10820 for Easy-Fit roof
Wooden decor high-gloss white
Item no 10800W for standard roof
Item no. 10797W for pop top roof
Item no. 10820W for Easy-Fit roof

Table
Laminated decor slate, including wall mount and folding table leg. Tabletop appr. 85 x 47 cm
Item no. 50158
No Image:
Diesel heater "Breeze"
Small, compact heater mounted under the passenger seat. Capacity: 2,7 KW, fuel consumption max. 0.33 l/h, power requirement: 74-130 W, dimensions: L 355 x W 124 x H 126 mm
Item no. 48129
Digitale control panel Item no. 48130
Manual control panel Item no. 48131
Mounting bracket underneath passenger seat Item no. 48132


Porta Potti box

Box for chemical toilet, HPL laminated anthracite, including upholstery (50mm), dimensions 390 x 425 x 348 mm

Item no. 10699

Porta Potti Qube 335

Portable chemical toilet suitable for Porta Potti box

Item no. 660101




Advantages of the campervan conversion kit CityVan for VW T6 and T5

Compact furniture module
Offering space for a 13 l compressor cooler, drawer for cooker, storage compartment and 13 l fresh and grey water tank.

Additional storage space in the roof
Spacious roof cupboard offering additional storage capacity.

Spacious trunk capacity
The moveable and removable rock and roll bed allows for spacious, flexible trunk capacity.

Rear storage easily accessible
The storage space is easily accessible even if the seat bench is converted to the bed.

3-personen rock and roll bed
Installed on rails – movable and removable. With integrate 3-point seat belt and retractable headrests.

Spacious sleeping area
The slim and elegant furniture module allows for a spacious, level sleeping space with a width of appr. 135 cm.

Flexible loading
When removing the front panel or drawer large luggage like skiers, snowboard or surfboard can easily be stored.

Comfortable seating area
Create a comfortable seating area by simply turning the driver seat around.

Wooden decor and upholstery fabric for VW T6 and T5 CityVan

Standard: wooden decor anthracite

Option: wooden decor high-gloss white

Standard: upholstery fabric classic grey

Option: upholstery fabric Austin

Campervan conversions – choosing, ordering and installing the right conversion kit!

Tips on how to order campervan conversions

The installation of most campervan conversions requires technical know-how, especially for mounting the rails / rock and roll bed as well as pop top roofs / high top roofs. To ensure that the installation complies with TÜV regulations Reimo only delivers to trained dealers.
The rails and campervan roof are being installed by a trained Reimo dealer but with sufficient technical skills the rest of the campervan conversion can be accomplished by yourself! The conversion kits developed and tested by Reimo simplify the campervan conversion.

Please order via one of our

Reimo conversion dealers

or the Reimo Megastores in

Egelsbach

or

Bochum

. The conversion parts will be delivered to the chosen dealer or Megastore. Just click on the map to find a Reimo conversion dealer near you to discuss your conversion plans. Please make sure that your conversion partner has seen your campervan at least once to ensure that the chosen conversion kit is suitable for your campervan conversion.