Camping Tables Budget-Priced
Roll Top Tables, Aluminium
Spare Parts for Camping Tables
Top brands in this category:
Top-Seller
Affordable camping furniture through direct import
Camping tables and camping furniture:
Camping kitchens, camping cupboards and more with a very good price-performance ratio!
The promobil Camp4 camping tables have been awarded by a very attractive price.
We offer a wide range of low-priced and high-quality camping tables also from other famous brands like:
Small pack sizes for camping: roll up, foldable, collapsible
For the beach, it is advantageous to choose a camping table with large plate feet or tubular frame.
Weatherproof and water-resistant MDF boards for camping tables ensure a long life.
Table Uwe - purchase tip in promobil 6/2013
The folding camping table Uwe by Camp4 has also received the purchase tip award in the Caravaning issue 6/2013.
In terms of handling, the camping table Uwe is far ahead of its competitors with "very good to good". The camping table Uwe has proven to be a long-running favorite in recent years, even after this long time since the first presentation this camping table (with small improvements) is still a bestseller.
Many models with 3-year warranty
Many of our Camp4 and other quality camping tables have an extended warranty period of 3 years. So you are on the safe side when buying your camping table!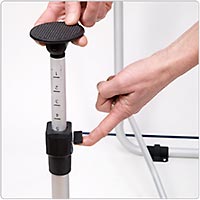 A camping table, which you can fold up and take with you is probably the expectation that you as a camper first have. But here are also various camping table models in different price levels.
The legs can be folded at all camping tables. In addition, the table top of the camping table is often divided into two and therefore foldable, or it consists of slats and can be rolled up.
Pay attention to the camping table feet: If you know that you will often set up your camping table on sandy ground, you should choose a table with plate feet or tubular steel frame.
Often larger table feet are also available as an accessory for the camping table.
Individually adjustable table legs can prove indispensable in the field of your camping table.
Uneven ground under the camping table can be compensated
The camping table is even adjustable despite the slope
Low-priced tables for camping starters
For young people and camping beginners we have our particularly favorable camping table models Twiggy II and Eva in the range. These camping tables are almost unbeatable in value for money.
The small camping table as a camping side table
The small camping table as a side table is becoming increasingly popular.
No more space problems no matter where you settle. The camping side table for glasses or snacks is set up in no time!
Here we offer the small camping tables Butler, Big Butler and Single, which are particularly suitable as a camping side table.
Especially space-saving tables for the mini-camper
Anyone who is traveling with a car or the more common minicampers such as VW Caddy or Renault Kangoo Renault, should be happy about our tables with very small pack size.
Our camping table model Mini Max Luxus und der van table Multi can be packed especially small.
-Lightweight and compact camping tables that are likely to find a spot in the trunk on every trip.
Do you have any further requests, questions or suggestions about our range?
Please send us your proposals via direct message to our
Facebook-Account
! Thank you very much!

Visit our Reimo Youtube Channel!
Watch
Videos about our camping products, camper, motorhomes and caravans!