Campervan Awnings, Camper Awning, Campervan Awning Tent, Van Awning, Van Awning Tent

Buy here different versions of campervan awnings and van awnings for your VW T4, T5, T6, Caddy, Bulli, Transit, Vito or Viano
Camper awning, campervan awning tent, van awning, van awning tent - find the ideal camper awning for your van, camper or minicamper right here.
Reimo's Camping Shop offers:
Tent Technology campervan awnings
Outdoor Revolution van awning
Westfield camper awning
Outwell campervan awnings
Many different
free standing
campervan awnings are available for you from stock. Whether you want a camper awning with a sleeping cabin, with a quick set-up, or an air awning, the Reimo camping shop offers a huge selection of campervan awnings to buy. With a van awning you create an additional feel-good space on your camper. When you leave your campsite for sightseeing or shopping, just leave your campervan awning tent or van awning tent free-standing. Traveling and sleeping with 4 people and more is no longer a problem with a van or camper and the right camper awning or van awning.
Read more about the campervan awnings e.g. the campervan awning tent or van awning tent on the bottom of this page!
0
Freestanding campervan awning and van awning for VW van, California, Multivan, Ford Transit, Renault Trafic, Mercedes Vito
and many other vans and minicamper.
Van awnings are suitable for many different vehicle models. Important is the connection of the van awning via the vehicle lock. Because it is only fun if the van awning is tight, but also removably attached to the VW van or another van. Freestanding campervan awnings offer a bit more freedom in your mobile life.
Camper awnings , campervan awnings from different manufacturers
Since there are many different opinions about the camper awning, we have several reputable manufacturers in our range for you.
We introduce you the following camper awning manufacturers:
Outdoor Revolution, an English manufacturer that produces very weatherproof campervan awnings for the "island climate"
Westfield, with air awnings and good campervan awnings
Outwell with the camper awning Touring Canopy
Reimo Tent Technology, our Reimo brand with a large assortment across the camper awning bandwidth
The camper awnings of
Outdoor Revolution
such as the Movelite 4 Low are designed as VW T6 awning, but also as VW T5 awning. With an optimum rain gutter height of about 1.80 m - 2.10 m, you can use the camper awning for many other campervans and minicamper. Outdoor Revolution is a manufacturer from the UK and offers campervan awnings that are well suited to the traditional "island weather". You can also see the campervan awnings on YouTube. Outdoor Revolution has made videos of many campervan awnings.
The campervan awnings of
Westfield
, such as the Hydra inflatable campervan awning are very popular. These campervan awnings impress with their very flexible vehicle connection. The Hydra camper awning, for example, can be used for campervans with a gutter height of 1.90 m to 2.45 m. In other words, the camper awning does not only fit for VW vans, but also for many other higher vans such as Ducato, Sprinter and Crafter.
The
Outwell
freestanding campervan awning, such as the
Scenic Road 250
, has a fully removable rear end and offers the option of attaching sleeping cabins for up to 4 people.
Campervan awnings from
Reimo Tent Technology
, such as the Tour Action Air inflatable campervan awning , or the many other Tent Technology developments have been in operation for many years and are subject to constant improvement.
Tent Technology's best-selling camper awning has been Tour Action for about 20 years. The Tour Action camper awning (Item No. 900014) can be purchased in several variants.
The van awning tent of the brand Tent Technology was developed here at Reimo, the production has taken place in the Far East. As a "campervan expert", we can offer you a well-elaborated and high-quality camper awning for an attractive price. The VW camper awnings from Tent Technology (formerly Camp4) have been adapted as VW T4 awning, VW T5 awning or VW T6 awning for about 20 years. The guideline for the van awning is the height of the gutter. Since this height is approximately the same for many vans and VW vans, the campervan awnings offered for the VW van also fit Mercedes Viano, Ford Transit and Renault Trafic. If you like to travel from one campsite to another, you need equipment that can be quickly set up and removed. This applies, for example, to the
campervan air awning
. Because this inflatable campervan awning is quickly set up and is fast connected to the gutter of your van, so you have a full-fledged campervan air awning for your campervan in no time.
VW Caddy awning, Fiat Doblo awning, Renault Kangoo awning, Opel Combo awning and van awning for other minicampers
We added VW Caddy awnings, the small van awnings for Fiat Doblo, Renault Kangoo, Opel Combo and other mini camper early to the Reimo camping shop for you. In almost no other motorhome, it is so important to create extra living space with a van awning, as with the mini-campers. For example, the van awning Tour Compact (Item No. 93701) is ideal for Caddy, vans and other vehicles with a vehicle height of up to 1.90 m. The van awning combined with the matching inner tent creates a cozy bedroom for 2 people. The mounting height of the van tent of 1.90 m also fits many other vans!
Please check the fit of your van awning with a sample construction. If the rain gutter is too low, then simply tighten the vehicle lock of the van awning tent a bit further. For example, the van awning lock can easily be stretched over the vehicle roof and fastened to the driver's side.
Campervan drive away awning
Campervan drive away awnings for T3, T4, T5, T6, Transit, Trafic and more, here we have a bestseller for you: The Tour Action 6 (Item No. 900781), the well-known campervan drive away awning by Tent Technology.
In recent years, the camper awning Tour Action has been steadily improved. The sewn-in floor and the rain protection canopy over the side entrance immediately catch your eye. Thanks to the two horizontal stiffeners, the camper awning can also be used as a campervan drive away awning or freestanding campervan awning. In other words, if you drive away from your VW van, the Tour Action camper awning simply stays there.

Expert Tip: In very hot temperatures and when your camper awning is in the blazing sun (summer Greece, Turkey, Spain ...) we recommend you to fix a sun canopy at a distance of about 10 cm, over the camper awning as an additional shade dispenser. The living environment in the van awning tent will be much more pleasant.
Campervan air awning, inflatable campervan awning - quick set up campervan awnings
The inflatable campervan awning Tour Family Air (Item No. 936372) is inflated and ready to use in no time. You only need a few strokes with the enclosed air pump to set up the campervan air awning or you can connect a suitable electric pump. The air tubes of the inflatable campervan awning are inflated to 7 psi pressure. The campervan air awning is stable and reliable - and that without actual poles and rods! Campervan air awnings have become increasingly popular in recen years. With a inflatable campervan awning you have an optional sleeping cabin, or a dry extra space for chair and table built on your campervan in no time.
Freestanding campervan awning and and the attachment to the campervan
The freestanding campervan awnings are available in various designs and sizes. In this way, the freestanding campervn awning can be adapted to the size of the campervan and to the needs of the camper.
There are freestanding campervan awnings for small or large pitches, for 2, 4 or 6 people, for small (VW Caddy), medium (VW campervans) or large vans as for the Fiat Ducato and those for the assembly longitudinally or transversely. There is the VW camper awning as Brindisi quick set-up awning (Item No. 90689) , tunnel tents and many more!
Sometimes even a sun canopy or campervan sun canopy is sufficient. An campervan sun canopy can be quickly cranked out at a stop or overnight stay. Sun canopies are attached to the vehicle with an adapter or, like the Thule 4900, they can be removable attached to the rain gutter. Campervan sun canopies with suction cups or those with which the entire vehicle is spanned are suitable for flexible mounting or with the camper awning. The campervan sun canopy can be permanently attached to the vehicle as an alternative to a camper awning. The right solution depends on the type of vacation. If you travel a lot, a sun canopy is the right choice. The freestanding campervan awning is used when a longer stay with several nights is planned. The campervan awning also makes sense, if you need an additional sleeping tent.
The right material for campervan awnings
Campervan awnings, or Tent Technology's campervan awnings, are made from lightweight, water-repellent materials. These campervan awnings are resistant to wind and storm. There are campervan awnings that lend themselves to longer winter camping in Spain. In our experience, a tear-resistant polyester ripstop or even Oxford polyester is the best material for a camper awning when used in the summer. Of course, the water column of the camper awning is important, but at least as important is the workmanship and tightness of the car lock or your camper awning.
Rain gutter height (mounting height) of the van awning
Van awnings must be adapted for connection to the van at height on the van or campervan. The height of the van awning is based on the support (e.g., gutter) into which the van awning is integrated. For the standard VW van, a mounting height of 1.90 m is sufficient for the van awning. In its depth, the van awning can have different dimensions. Large van awnings offer plenty of space and extend the often small interior of the campervan quite considerably.
VW camper awnings: VW California awning and VW Multivan awning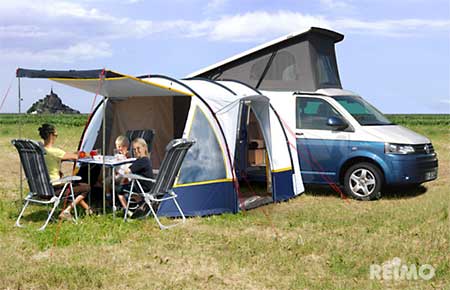 The VW Multivan usually offers 7 seats, but only 2 sleeps. As a VW Multivan awning, for example, Reimo produces the T4 awning, T5 awning, T6 awning Tour Family Air (Item No. 936372). This VW camper awning stands alongside the VW Multivan, VW Caravelle, or VW California. This VW camper awning offers a sleeping places for 4 or 5 people. The benefits of a family tent with large sleeping cabins are combined with the benefits of a VW T5 awning, VW T6 awning. The vehicle lock on the camper awning is adapted to the vehicle contour of the VW van. The vestibule of the camper awning in front of the sleeping tents is provided with a floor and offers sufficient living space, if the weather is not so perfect. Of course, many other campervan awnings are suitable for the Multivan. Freestanding campervan awnings that fit the VW van size, also fit the VW California or Multivan. For those who like to travel a lot, the Brentisi camper awning enables a quick set up. With a fast and comfortable camper awning setup you will of course have more time to relax. The camping tents for the California offered here, provide extra space and can be easily attached, for example, to the gutter.
Fiat Ducato awning Big Van for Pössl, Adria or Knaus campervan
Fiat Ducato van awnings such as the Tour Bus High (Item No. 9001791) are specially designed for large vans such as Fiat Ducato, Citroën Boxer, Peugeot Jumper, Sprinter and the like. The height of the awning and the lock of the Fiat Ducato awning are adjusted to a vehicle height of 2.50 m and the vehicle contour of the high vans. As an inflatable campervan awning, the Tour Van High Air has been quickly assembled with the air pump and attached to your vehicle with the lock. So you have a built awning with a large walk-in bedroom and living room and a waterproof connection to your high van in a very short time.
Camper Awning Video - Movelite for VW
Do you have any further requests, questions or suggestions about our range?
Please send us your proposals via direct message to our
Facebook-Account
! Thank you very much!

Visit our Reimo Youtube Channel!
Watch
Videos about our camping products, camper, motorhomes and caravans!